About us
You have probably arrived at these pages because of our work on the AJP-6 engine - what the TVR Speed Six engine should have been from day one - though there is much more than this to RND Engineering, as you will see when browsing through this site.
Unlike other tuning companies, we have always made it a policy to go straight to the manufacturer of any components or parts that we use wherever possible. Not only does it mean that we cut out any middleman - and pass the savings on to you the customer - but it also allows us far tighter control over both specification and quality. Our Speed Six cams for instance are cast to our own design, and then profiled - to our own profiles again - by respected UK name Kent Cams. We are the sole UK agents for the American Procharger supercharging systems and kits. We deal with Manley Valves in the USA direct, allowing us to get exactly the specification of inlet and exhaust valve the Speed Six needs - not have to make do with whatever a UK stockist just happens to have left on the shelf at the time. Where something is not available off the shelf - we go off and design it, make it and bring it to market. As with our valve finger followers, and the high volume, high pressure oil pumps for the Speed Six.

Our links with Carrillo and JE Pistons - two of the foremost compeition component suppliers in the USA - mean that we can have rods and pistons made economically in small runs to meet the needs of road and track Speed Six owners both here in the UK and worldwide. (One of our sets of rods recently went all the way to Australia...)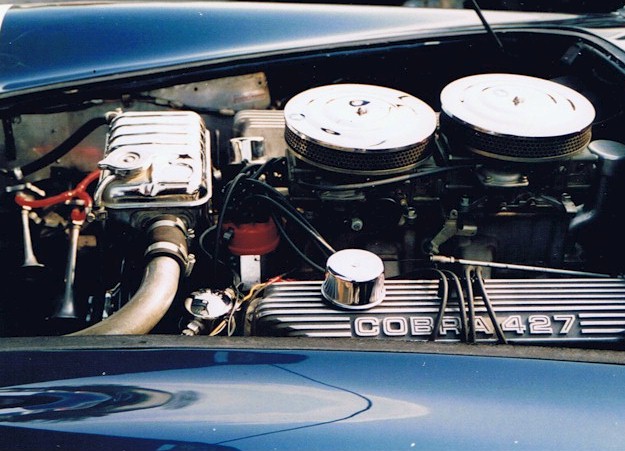 AC Cobra 427 motor built for the same customer who asked us to develop the 1000 BHP Dodge Viper featured elsewhere on this site.
Now for a bit of history...
Our interest in cars started back in the 60's with tuning Ford Anglia's 105E's and Minis but in the 70's the focus moved to American V8s. The first V8 was a Ford 221ci which was fitted in a MK3 Zephyr 6, mated to the standard gearbox and axle. Later this was changed for a 289ci and finally a 351ci Windsor mated to a Jaguar overdrive gearbox and 3.8 Jaguar axle. This was drag-raced with some success.
In the 80's there was work building engines for GT40 and Cobra replicas and also a Rover V8 for the famous Roford Rover powered MK1 Cortina which was campaigned by Paul Privett on the drag-race scene. Also a 289ci race-engine was built for Richard Knibb's TVR of the Cider-bar Newton Abbott, which he used on sprints and hill-climbs.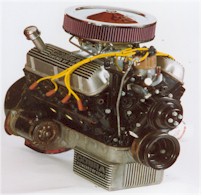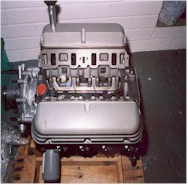 AC Cobra and Ford GT40 V8 engines
In the 90's container loads of american V8 engines, axles, gearboxes were imported for the kit-car market with engines specified for a range of power outputs. Some engines went to Japan in GT40 and Cobra replicas and also to other kit-car manufacturers in that era - the Golden Days of kit-cars! Ford V8 engines were also built for the DeTomaso Panteras.
It was also in early 90's that development work was started on the Ford 2.8/2.9 Cologne engines, assisted by Ford in Detroit, which led to the 3.5 and 3.7 versions known as the Ultimax.
Other interesting projects at that time included modifying a 2.0 litre Ford Scorpio for a customer by fitting a brand new 300HP 302ci V8 with matching gearbox, uprated suspension and diff. Also an Ultimax Colgne 3.5 was built for Andy Lloyd's XR4i, which he raced in the Vectra Challenge Cup. The power was 260bhp/280lb-ft with a four-barrel Holley carburettor and six-port heads. The car ran all season without any mechanical failure and came 3rd in class after two 450bhp Cosworths.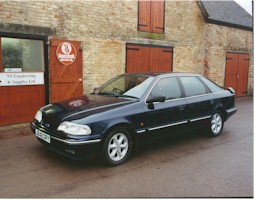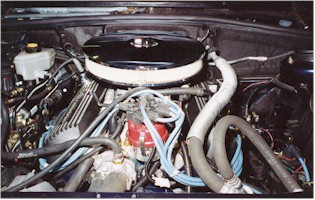 Ultimate street sleeper - Granada Scorpio V8
A major turning point was working for a customer with a genuine 427 Shelby Cobra that had a damaged engine with two conrods through the block. This was rebuilt and upgraded with all genuine new parts from the states and it produced over 500HP on twin-four-barrel carburettors. The same then customer bought a new American spec 1994 Dodge Viper and requested a twin-turbo conversion. This was a project and a half - the project is detailed on its own page elsewhere on this site.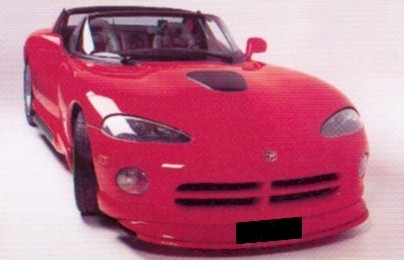 Dodge Viper 1000 BHP

The projects continued apace with a 4.3 Rover V8 powered Caterham which had cross-bolt mains and four 48 downdraft Webers - quite a scary road car. Also a Sierra XR4x4 Ultimax 3.5 with Sprintex blower, uprated gearbox and viscious coupling and produced over 320bhp which could spin all 4 wheels at launch.

We were the first to fit a transverse 400BHP Cosworth engine and uprated gearbox into a front-wheel drive MK6 Escort. It was charge-cooled and intercooled. We built the engine from scratch and made the sub-frame and all mountings.

Into the new millenium the projects included the development of ProCharger kits. We built a 2.5 V6 Vectra with 320bhp, a 2.5 V6 Ford Cougar with 346bhp, a 540ci supercharged monster-truck engine with over 1500bhp+ - Tony Dixon's Swamp Thing, an MGZT 260 SOHC Ford V8 engine upgrade to 5 litres and a ProCharger producing 600bhp and 490lb/ft, a 3 litre Duratec conversion in a MK1 Mondeo converted to four-wheel drive and ProCharger, a Chevy 305 trike modified to 383ci with a ProCharger producing 600 bhp, and a Range Rover and Ford Scorpio both fitted with 4.6 Ford Modular V8's.

At this time, we also made our first venture into the TVR market with a supercharged 4.0 litre Speed 6, and an AJP 4.5 Cerbera.
Work undertaken on specific engine families... Ford Modular V8
The Ford Modular V8 comes in a number of variants. These include the 4.6 litre engines fitted in the Mustang GT, the MG ZT 260 and also American saloon and estate cars and some pickup trucks. It also came in a 5.4 litre high block long stroke truck engine and was fitted with a super charger in the Lightning truck. At the top end there is a V10 6.8 litre, also fitted to trucks. All these engines had iron blocks with sohc per bank 16 valve aluminium heads.
These iron block engines were followed by 5.0 litre and 5.4 litre versions with an all-aluminium blocks, steel crank, 32 valves and dohc per bank. Later still, versions with 24 valves were in production.
Known weak points in these engines are the con rods. These are sintered metal and designed to be 'cracked' apart after machining - good for production economy, but not ideal for reliable high-rpm operation. Forged and billet steel alternatives are available- good for 600 BHP and 800 BHP respectively. Please enquire about matching piston sets to replace the standard hypereutetic alloy items.
Ford Motorsport cylinder heads for these V8 engines can be had too, which come with bigger valves for improved high-rpm airflow. Matching intake manifolds, EFI throttle-bodies, cams and stainless-steel valves can also be ordered through us.
Work undertaken on specific engine families... Ford Duratec
There are broadly five engines in the Duratec V6 range and they follow a modular design philosophy. They were produced in 2.0 litre (1998cc) and 2.5 litre (2498cc) for the Japanese market, with the 2.0 litre being a short stroke version of the 2.5 litre.
For other markets, including the UK, the engine was produced in 2.5 litre (2544cc and 2495cc), 3.0 litre (2967cc)and 3.5 litre (3496cc) with a number of parts on these engines being interchangeable.
We have performed a number of upgrades to these engines including ProCharger versions with full parts back-up that includes competition camshaft profiles, heavy duty rods, main bearings and specially-commissioned ARP high tensile assembly bolt sets.
Work undertaken on specific engine families... Ford Cologne V6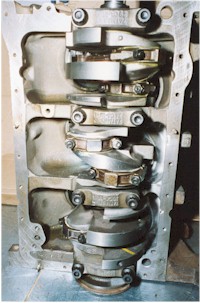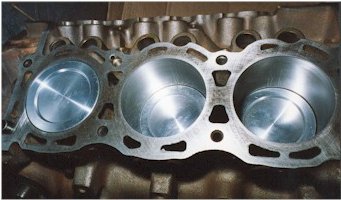 Ford 'Cologne' Ultimax V6 - bores and bottom end
We are the people who developed the legendary Ultimax 'Cologne'. The low-down 255 lbs/ft plus torque and 210 BHP produced by these naturally aspirated developments of the Ford Cologne V6 OHV engines is awesome - because the power is available across such a wide rev band. From the standard 2.8 or 2.9 litre, we took these Capri, early TVR and 2WD and 4WD XR series Sierra units right up to 3.7 litres. And we also offered supercharged versions ...
Work undertaken on specific engine families... Rover V8
It has been well documented that the Rover V8 engine was derived from the American Buick/Oldsmobile 215 ci engine which was purchased by BMC and produced for the Range Rover, Land Rover and saloon cars.
Pretty much everything that can be done, has been done with this engine from 3.5 to 5.8 litre including turbo and supercharging. The engines are also in ready supply and do not cost the earth to modify compared with modern high reving multi-valve engines.
We supplied and built any configuration of this engine including standard rebuilds, stroked and bored to larger capacity, fitted with Webers or EFI, a ProCharged or turbocharged or supercharged system; all to individual specification - and probably still can if you ask us nicely...
Work undertaken on specific engine families... American V8
There is a saying that there ain't no substitute for cubic inches and there's more than a grain of truth in that phrase.
Drag and UK stock racers have long known about the big American V8 engine's secret - that brute torque can rocket a car forward at the touch of the throttle, in a way that has to be experienced to be believed. But faced with higher petrol prices and a tradition of making ever smaller engines more efficient through clever engineering and higher revs, the simple pushrod, cam-in-block OHV eight, has always seemed a poor relation over here.
But pound sterling for pound weight, a 5.7 litre Chevrolet or 5.0 litre Ford V8 can still deliver cheap - and reliable - horsepower, when compared to spending money on tuning some more modern engines.
Even though carburettors disappeared from US showroom cars in the early 80s, development of add-on performance parts hasn't stopped - thanks to a thriving hotrod community over there, and several high-profile race series that specifically ban EFI. Both Ford and Chevrolet offer a range of official performance parts for "off road use only" - which can be ordered through us.
The production OHV American V8 is not dead yet, as while newer designs of OHC motors have found their way into prestige US sports cars like the Mustang and Corvette, it is still the engine of choice for many Recreational Vehicles and pick-up trucks over there.
Procharger conversions
Imagine a bolt-on device that combines the simplicity of a turbo, with the instant, on-demand power delivery of a supercharger - that's ProCharger.
No special exhaust manifolding of the conventional turbo, and none of the air-pumping inefficiencies of the conventional Rootes blower. Best of all, the ProCharger is self-contained, and comes with its own lubrication system.
Depending on the engine design and the installation, ProCharger can deliver anything between 55 to 100 per cent more power - and that's on standard pump fuel too.
So how's it done? Well, the ProCharger is an engine-driven centrifugal compressor and is matched to an air-to-air intercooler. However, because the ProCharger delivers its boost in line with engine speed, you don't have to wait for an exhaust turbine to spin up before the power starts coming through to the flywheel.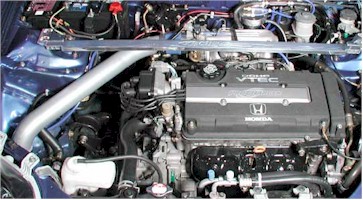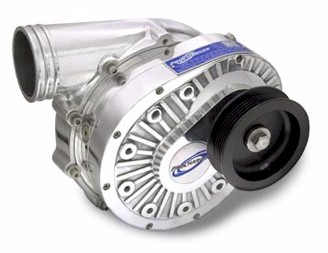 Procharger installed in Honda FWD application and the unit itself
And, unlike traditional lobe-type Rootes supercharging, the increase in air/fuel being forced into the cylinders is more gradual, rather than arriving as a sudden 'shock' load that can lead to detonation and blow holes in pistons. Bad enough on a road car - but on the track, something that can put you right out of competition. That's why both turbo and supercharged engines usually have lower compression ratios to start with - even though it means that any forced induction has to play 'catch-up' in the early part of the rev range where a normally aspirated engine would already be coming onto the power curve.
The ProCharger's use of an intercooler has another benefit too. Reducing the air temperature increases its density. The denser the air becomes, the more thoroughly the fuel mixes in with the available oxygen, leading to a far more efficient burn that is automatically cooler to start with. So excess heat, that other contributor to detonation, can be kept better in check.
So the ProCharger has benefits of no modification to the exhaust manifold or oil system, it delivers a cooler charge which means that engine modifications (e.g. lower compression ratio) may not be required and above all it delivers significant increases in power and torque throughout the rev range whilst running on standard pump fuel.
---
Copyright
Site content, images and technical information provided on this site - unless otherwise noted - are copyright RND Engineereing 2010. Reproduction of such content without permission prohibited. Specific engineering design changes to the AJP Speed Six and other engines detailed upon this site, are the intellectual copyright of RND Engineering
Stumbled on this page through a search engine? Go to home page