---
Swamp Thing
Monster trucks place heavy demands upon both drivetrain and power plants. To achieve crowd-pleasing acelleration means high torque from low revs, yet because of the low gtearing needed to drive those massive tyres, the engine also needs to be able to rev freely as the vehicle shoots forward down the limited length of the arena. It may all look agricultural and brute force and ignorance from the outside, but as with any type of competition, it is serious design and engineering that keeps the best ahead of the rest.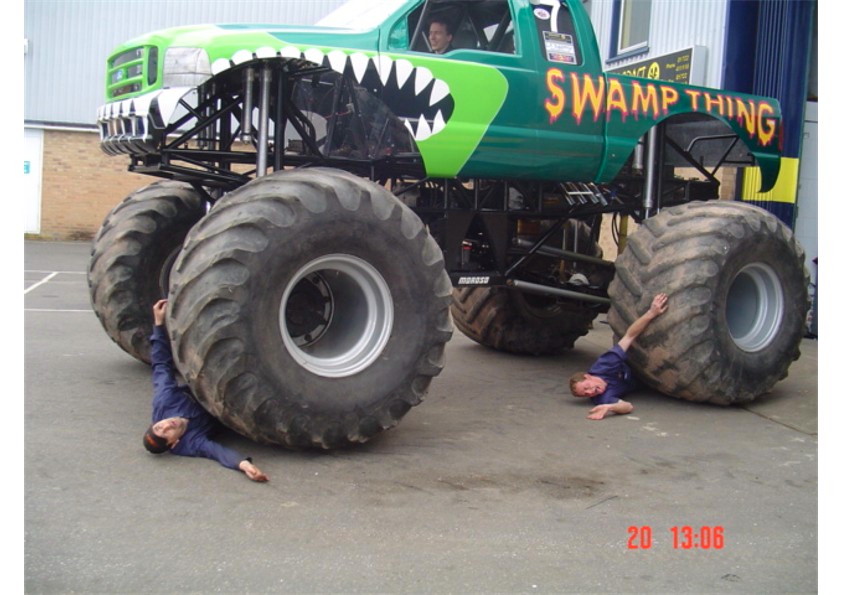 Swamp Thing's engine is based around a Chevrolet big block supercharged motor, built for reliability as much for performance. We specified the engine from the ground up and oversaw final assembly and testing in our workshops. Despite a power output of over 1,500 BHP in over five years of racing, the engine has only required routine oil and plug changes, and resetting of itts tappet clearances.
Here are some images of this engine taken in build - The specifications are here.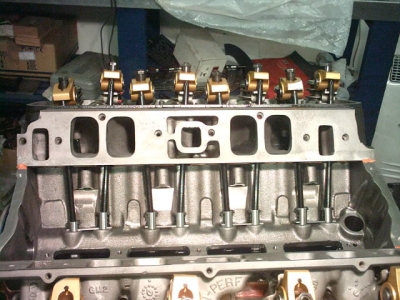 Block with head mounted and Competition Cams roller rockers waiting to be set up on the Lunati roller camshaft.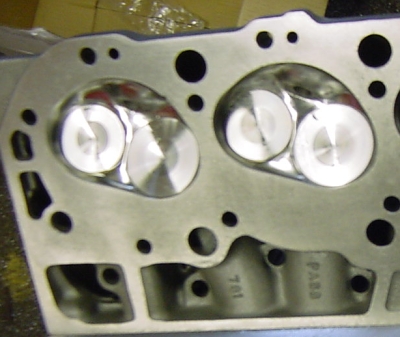 Close up of combustion chambers, showing high quality of finish on valves, and chamber surfaces.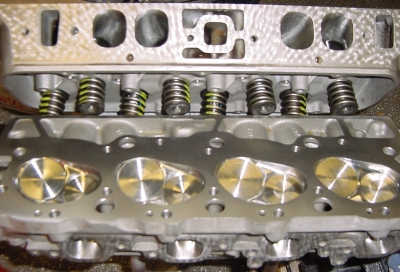 Fully ported and heads - inlets as well as exhausts - awaiting mounting on the block.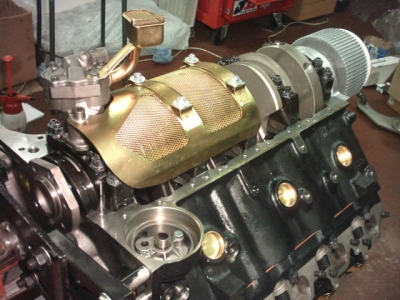 Botttom end of Swamp Thing showing oil pump and windage tray.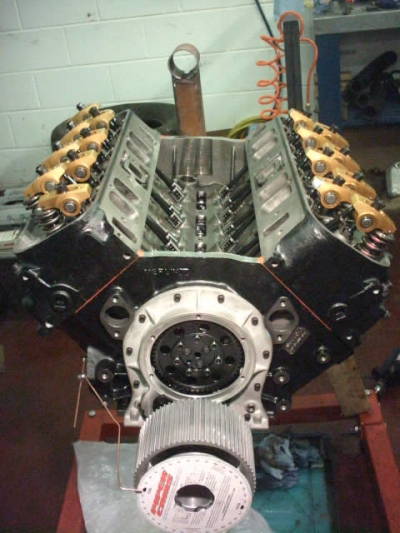 Block complete and awaiting addition of intake manifold, blower, engine ancilliaries and rocker covers.
Specifications
For those who are interested, here's the detail specification:
Capacity - 540 cubic inch / 8850cc
Block - new Merlin 3 tall block, aftermarket compeitition/race version of Chevrolet factory block
Crankshaft - Scat 540 forged blower crank
Connecting rods - Scat H beam pattern
Pistons - forged, Scat
Piston Rings - Total Seal
Cylinder heads - fully ported and modified courtesy of Simon Hicks
Valve Train - triple valve springs, Lunati billet custom profiled roller camshaft giving over 0.700inch lift at the valve, Competition Cams roller rockers, chrome moly push rods, Lunati roller followers
Timing chain - heavy duty double roller timing set with vernier timing spocket
Supercharger - Rootes-type lobe blower from B.D.S.
Fuel - Methanol

Credits

Lastly, a plug here for Simon Hicks, who has been doing all our head work over the last 15 years. We reckon on him being one of the best me in the UK for this, and his experience covers - amongs others - TVR Speed Six and AJP v8, Amercan v8 from Ford, Chevrolet and Chrysler, Ford v6 Cologne and Cosworth plus Duratec v6, Vauxhall v6, and Honda 1.6 and 2.0 litre.
---