---
ROVER V8 - General Information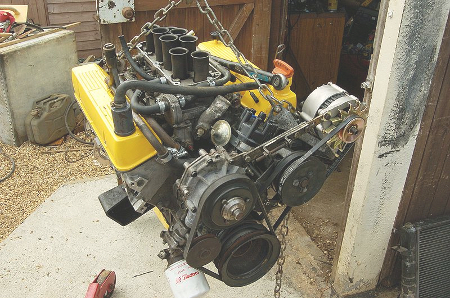 The evergreen Rover V8 - this one from a 1986 Range Rover. Image by Lewis Collard.
The history of the Rover V8 as a lot of you know is that the engine was originally used in the Buick Oldmobile and Pontiac cars of 215 cubic Inches in the USA in the early sixties. The rights were then sold to Rover around 1965, and the engine was then fitted in the old rover 3 litre and Rover 2000 bodied cars and later in the Range Rover and Land Rover, and it is one of the better success stories for BMC, later Austin Rover as it was then was. For the record, Range Rover capacities covered 3.9, 4.0, 4.2 and even 4.6 litre displacement.


There has now been a lot of development over the years by both car makers and independent tuners, and this engine has been used in everything from hotrods to kit cars like Cobra replicas and Westfield, plus in specialist sports cars such as TVR and anything else you can think of. Whilst the original engine was 3.5 litre, it has been stroked and bored to
up to 5.5 litres, and also supercharged and turbo charged. TVR in fact developed their own sub-family of engines, covering 4.0, 4.5 and 5.0 litre variants.


The standard 3.5 litre early engines were 10.5 compression ratio and rated at 158 Bhp and 210 Lbs Ft of torque, while the later engines were fuel injected and also had better cylinder heads as fitted in the Rover SD1.


We can do anything from a standard rebuild to a full race performance engines. The pictures on this page show just some of the modifications that can be done to this engine family.


Off-the-shelf performance head for Rover V8. Intake valves are 1.9 inch and exhausts are 1.6 inch.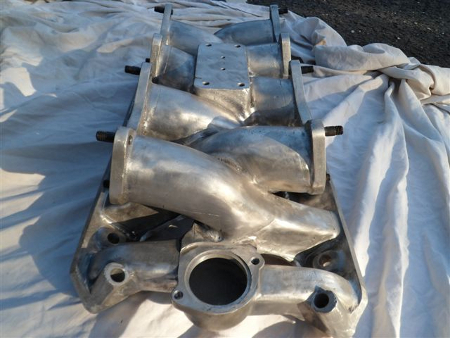 Cross over intake manifold to suit the above heads. Either for throttlebody injection or 'old-skool' Weber DCOE sidedraft carburettors.
The heads illustrated above and the crossover manifold were for a special project 4.8 litre with a flat plane crankshaft for which we were asked to source components using our contacts both in this country and the USA .


Bottom end of performance long block recently built by us. The engine is fitted with H beam rods and custom Ross pistons.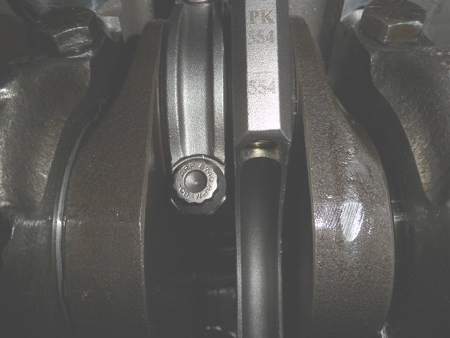 Close up of crank throws showing well the rod profile.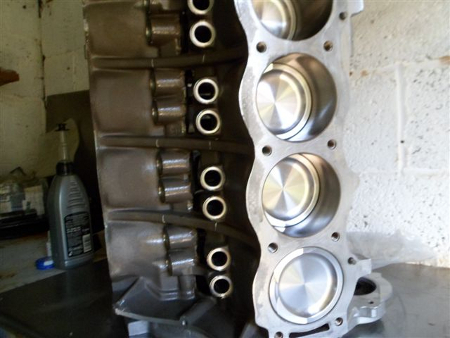 Bores with Ross pistons. You can just make out the cut outs in the edges of the piston bowl to accommodate valve travel.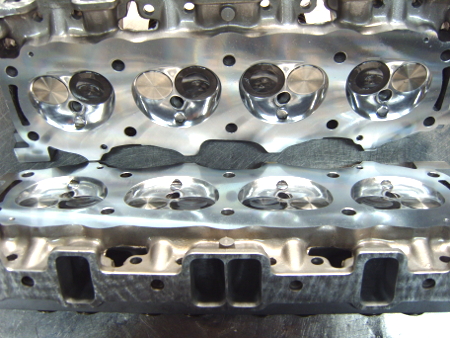 Heads ready to fit onto the block. Ported and polished to stage 3 specification.

This short block assembly is a 5.1 litre engine we did for a TVR Chimeara. As you can see it has six inch H beam conrods and custom Ross Racing Pistons. The complete assembly was race
balanced by Bassett Down Balancing, and is also fitted with a Kent 214 Camshaft and vernier timing gears. The heads incidentally were done by Simon Hicks
to stage three specification.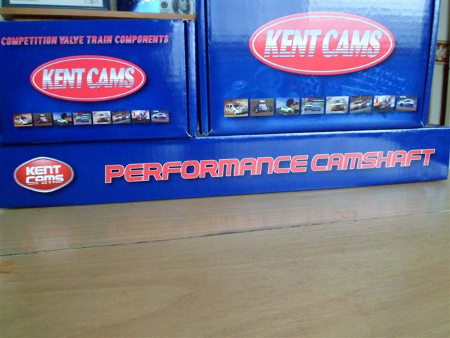 RND Engineering is able to supply and fit any of the Kent Cams range of valvetrain components for these engines.
---