---
AJP-6 Legal and Intellectual Copyright Issues
There has been some confusion with regard to the origin of a number of aftermarket modifications that have become available over the past few years for the engines used in the TVR sports cars. This page page covers several key innovations that we developed, together with some background information that has up to now not been in the public domain.
Camshafts and valve train component design
Here are extracts from original working blueprints for our own components (some dimensions and other confidential information has been smudged out where appropriate) -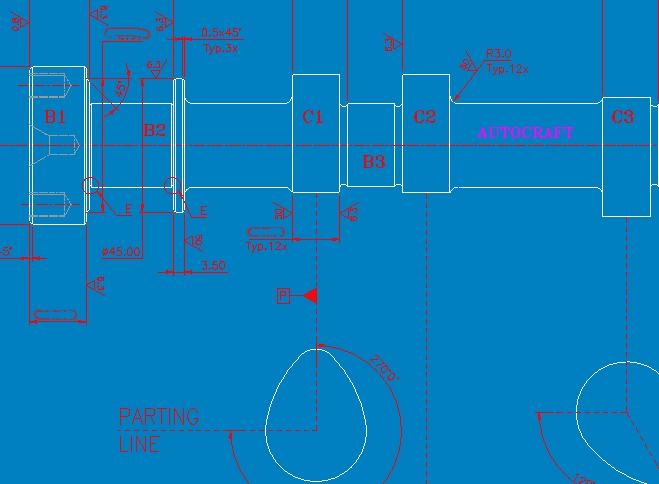 Note that the word "Autocraft" is to be cast into the camshaft; elsewhere on the same casting should be our part number which corresponds to the manufacturing drawing identification. In this case DNC 1071 - per the extract below from the data panel from the blueprint.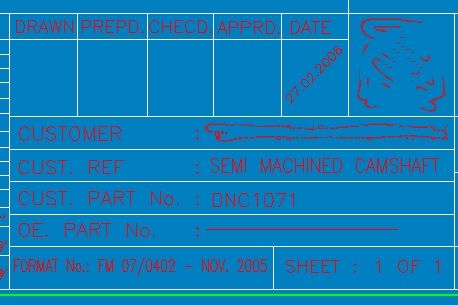 You may have seen camshafts like these advertised by Racing Green Cars, and which are quoted on their website as having been sourced in the correct grade of chilled iron, and which together with matching finger followers are "exclusive" to them. Well, we can tell you this is nothing of the sort - the original design is Autocraft's, and as our design is our copyright, we can license it to be manufactured by whoever we choose - and Racing Green Cars is not to our knowledge one of our licensees.

Here's what the cams look like when assembled into the cylinder head - notice the word "Autocraft" between the first and second set of lobes (circled in red). On Racing Green's website, if you look closely at images of their camshafts, you will find their cams have flats machined in the same places as the words "Autocraft" and the part number" DNC 1071" appear on our camshafts. That is if the pictures are still there when you get to read this...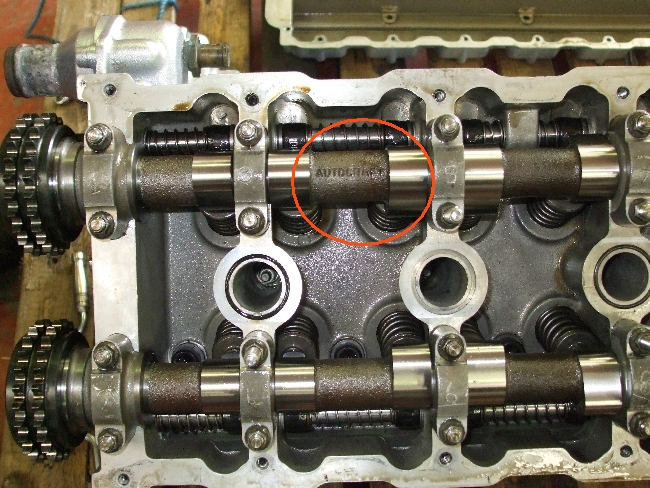 Still not convinced as to who developed what first and when? Take a look at the following blueprint extracts for the matching cam followers -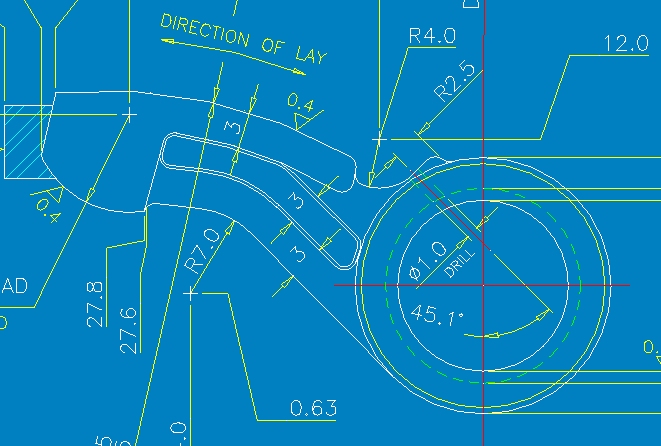 And now an extract from the drawing identification panel..... -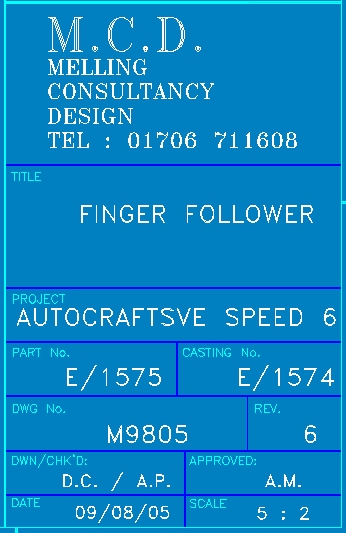 ....plus the revision history panel, both from the same drawing -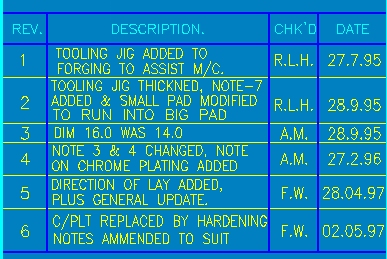 Note that the revision history shows that Al Melling.s M.C.D. Consultancy originated this design of finger follower prior to 1995 - with the component being further developed under the AUTOCRAFTSVE SPEED 6 project designation in 2005 as cited on the drawing identification panel.

Now check the dates on both blueprints against what you have read or heard elsewhere, then make your own decision.

You might have read elsewhere in print and on the web too, that aftermarket followers of this pattern have failed in service. Again, all we can say is that our finger followers have been used and tested over the last four years for thousands of miles without any problems. We also had the specification checked by a company who do induction hardening and DLC coatings and they came back that they were correct and fit for purpose. The first engine to be fitted with these followers had sintered cams as production samples of our cams were not ready in time - and it STILL ran for 20,000 plus miles until it had a completely unrelated big end failure.

The legal background - defending our intellectual property rights

To round out the picture, here is the text of a letter we sent to the Salisbury County Court as part of the legal steps taken to assert our claim against unauthorised use of our finger follower and equal width lobe camshaft design in the AJP-6 engine. It makes for some very interesting reading....


AUTOCRAFT SVT Ltd



19 May 2009

Salisbury County Court
Alexandra House
St John Street
Salisbury
Wilts
SP1 2PN


CASE NUMBER 9SB00029
Autocraft Special Vehicle Tuning-v-Racing Green Cars



Reference Racing Green Application to set aside judgement I would like to make a few points.

1. They did not respond to my last two letters before I put in a claim

2. They did not respond to my claim or file a defence.

3. The Judge ordered questionnaires to be filed. They failed to do this.

4. The Judge gave them a second chance to fill in a questionnaire by the 2 March 2009 and they failed to do this, and judgement to the claimant damages to be assessed.

5. They were given until 20 March to file any defence they wish to rely on. They failed to do this.

6. Disposal hearing was set for the 12 June 2009 at 10 am, i applied for this to be brought forward and was granted a hearing on 21 May 2009.

7. They applied to the court to have this judgement set aside on 2 April 2009 this was listed for 29 May 2009. I informed the court of this and they reset there application forward to 21 May 2009 to my disposal hearing date. Colin Bowler came court with barrister from London - they produced no evidence.

8. I object to this in the strongest possible terms they have been given ever chance to defend this
and should have done by 20 march 2009. This is totally unacceptable.

9. The finger follower they copied came out of an Autocraft customers engine and Newman Cams manufactured it from our drawing M9805 of which the court has a copy ( Newman Cams admit this in their statement case number 8SB00347) see drawing. The date on the drawing is 9 august 2005 Approved By Al Melling. We paid MCD £12000.00 dated 26 July 2005 for the drawings.

10. Camshafts - our drawing was done for us independently and we paid £3000.00 for this and the tooling, the drawing number DNC 1071 dated 2 November 2005 this cam is in no way a copy of TVR cams the lobes are wider so we can use the same casting after profiling for inlet and exhaust. (see pictures of cams). Profiles of lobes, the lift on TVR cams is 8.1mm or .319 thou at the lobe the duration is 267 degrees inlet and exhaust. Autocraft cams profiles are unique and not a copy of the TVR profile. Also the bearing area on the Autocraft cams are the same on inlet and exhaust, the TVR bearing area is wider on the inlet camshaft ( see pictures ) The lift and duration on our cams are totally different.

12. Racing Green Cars. Although there is no I.P on these ideas Racing Green have copied my oil feed system to the cylinder head, reduced valve spring pressures, A.R.P head studs to name but a few and passed them of as there own ideas Autocraft developed all this 2005 it is in the public domain and on Pistonheads TVR web forum.

13. The camshafts that Racing Green are advertising on their web site are Autocraft's unique design - see the picture of cams purchased from racing green with the finger followers installed they have "Autocraft" cast in them. They have no right to our camshafts or finger followers.

14. See their solicitors letter telling me to drop the case

15. CASE NUMBER 8SB00347 AUTOCRAFT SVT-V-NEWMAN CAM

16. This case was settled by judge in chambers on 29 October 2008 Newman Cams were ordered to return the tooling for the camshafts plus to return any camshafts and finger followers, they were also ordered not to manufacture or produce any products from tooling or I.P. of Autocraft SVT.

17. This is extract of the statement Newman Cams made to the County Court in Salisbury

"Approximately 15 months ago, we had an enquiry for the same rocker arm from a company called Racing Green. They supplied a sample rocker arm which was the same as the ones we manufactured for Autocraft SVT and could we manufacture some for themselves".

"We manufactured rocker arm Part No M9805 for a company called Racing Green who Autocraft SVT know. They are using this part and selling it to the public".


Oh and just in case you were wondering about that reference in point 14. to a solicitor's letter asking us to 'drop the case', wonder no more because here is a copy of that as well...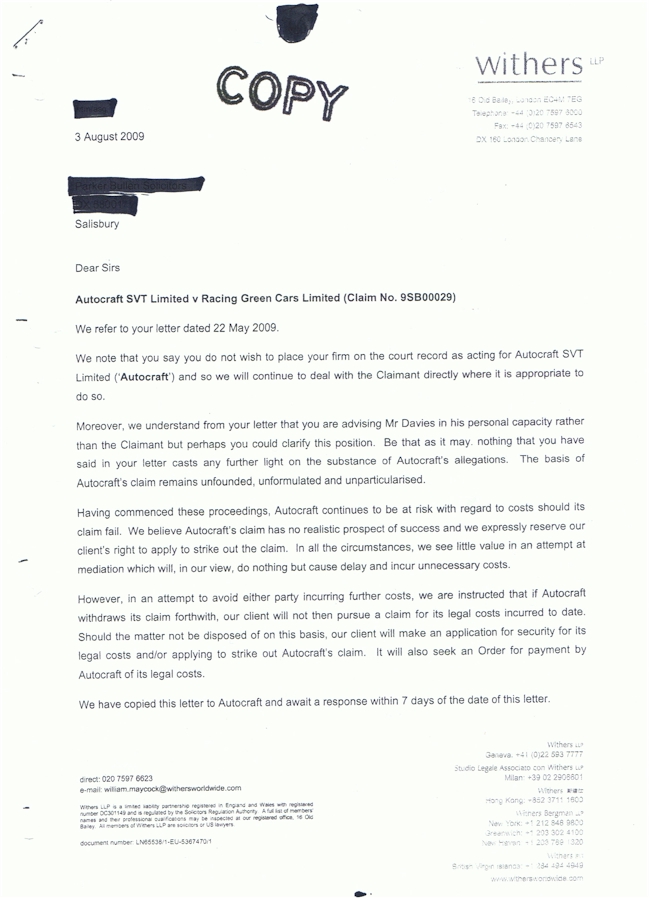 Just in case you missed it, go and compare the contents of the 2nd paragraph in the Withers LLC letter, specifically the bit about being 'unfounded, unformulated, and unparticularised' - which was dated the 3rd August, 2009 - to point 17. in the Salisbury County Court letter of the 19th May, 2009, which in turn refers to a statement made before a judge in chambers on the 29th October 2008.

Interesting reading, eh?.




---